Parallel Threaded Coupler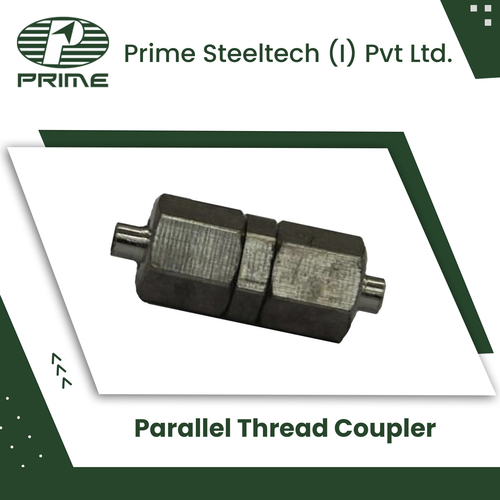 Parallel Threaded Coupler
Product Description
Coupler are designed to splice the reinforcement bars where at least one of the bars could be rotated. The taper threaded design of coupler helps easy engagement of the bar within the coupler with simple alignment. The Standard Taper Threaded Coupler comprises of internally threaded sleeve with two right handed threads tapering mid length of coupler.The bar ends to be spliced are saw cut and taper threading is provided on bar ends with proprietary branded threading equipment and thread cutting devices. The bars are connected initially by hand tightening and then with pipe wrench (torque wrench may be preferred).

The Splicing system provides butt joint when the bar threading is fully engaged with coupler by appropriate tightening. The splicing complies with BS-8110 Part 1, 1989 & BS-5400 Part 4, 1990 andACI-318.
The couplers are supplied with internal thread protection plastic cap, The compact design of coupler ensures that no extra concrete cover is demanded for coupler protection.
Technical Details :-

T E C H N I C A L ..S P E C I F I C A T I O N S

COUPLER DIMENSIONS

BAR SIZE




16

20

25

28

32

36

40

50

Length

A

52

70

85

95

105

110

125

130

Diameter

G

25

30

36

42

45

50

54

65

Weight

Kg

0.13

0.26

0.40

0.64

0.8

1.00

1.27

1.65

No. of Rebar Thread



10-12

10-13

13-16

15-18

17-20

18-21

21-24

22-24
Dimensions in mm.
Specification
| | |
| --- | --- |
| Usage/Application | Plumbing Pipe |
| Fitting Type | Elbow |
| Material | SS |
| Size | 1/2 inch |
| Thread Size | all |
| Surface Finish | Standard |