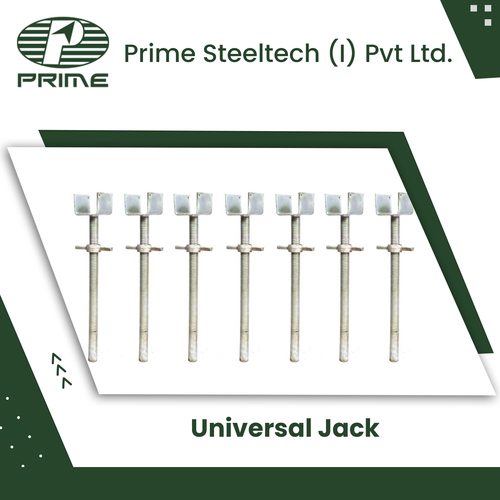 Universal Base Jack
Product Description
Universal Base Jack

Universal Base Jack is used as an indispensable part of scaffolding system for providing structural support. This precisely designed jack is accessible with hot dip galvanized or electro galvanized or painted surface finishing. It is designed with parts like screw rod, jack base and nut. Its advanced design enables it to maintain precise position of formwork or timber made beam.
Universal Jack, manufactured, supplied and exported by Prime Steeltech (I) Pvt. Ltd is highly helpful in making a secured foundation. It can make various effective adjustments in ground levels. In addition, it has exceptional capacity to ensure the optimal level of construction works. Also, it maintains a demanding scaffolding level without compromising on safety and dependability. Made to last, this corrosion resistant jack ensures high service life. Universal Jack is apt for heavy-duty work, long-term sturdiness and simple utility. It is also helpful in settling the uneven ground levels. Utilization of this jack is needed to fulfill the industrial and safety requirements. With us, variety of dimensions and configurations is available to meet the specific requirement. This is highly serviceable in giving support to the centering sheets as well as beam bottoms. Supplied is a significant accessory that enjoys high level of functionality in different scaffolding systems. A desired adjustment can be made in the base heights.

Key Points:

Adjustable span of the universal jack is assembled with both inner and outer sliding.
Designed to be effortlessly adjusted, ask for reduced maintenance cost
Offered with jack nuts for correct adjustment.
Boasts of superior toughness, excellent load capacity, simple adjustment and rust-resistance, which make it suited for different constructional projects.